Ashley Bauer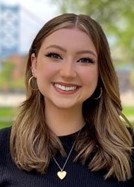 Ashley graduates with a major in Political Science and a minor in Gender Studies. She is currently completing the Master of Public Administration Dual Degree Program and feels that her studies have prepared her to move forward and pursue her passion for advocacy work in the future. Through her experience working with the Violence Prevention & Victim Assistance Office and the Rutgers' Office of Federal Relations, she is well-prepared to move into the next chapter of her life. Ashley is graduating Summa Cum Laude with Latin Honors and is a member of the Athenaeum Honor Society and the Pi Sigma Alpha National Political Science Honor Society. She says she is grateful for her time at Rutgers-Camden and the wonderful and welcoming community that allowed her to flourish and grow!
Cristopher Prieto Diaz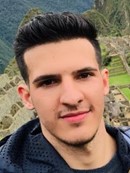 Cristopher graduates with a dual major in Political Science and Global Studies. His favorite experiences during his time at Rutgers-Camden were the study abroad programs to Ireland, Peru, and Spain. These programs allowed him to experience new cultures, learn more about the world, and visit unique places like the Cliffs of Mohr and Machu Picchu.   
Cristopher's main interests in Political Science are international relations and comparative politics, with a focus on Latin America. During his senior year, he built on his interest in gender issues to complete an Honors Thesis on the failure of government policies to address femicide in Latin America.
According to Cristopher, "the education I received at Rutgers-Camden has prepared me exceptionally well for my future. Through my classes in Political Science and other disciplines, I was exposed to a wide range of theories and ideas that provided me with a strong intellectual foundation to understand complex national and global issues. Besides, I learned to think critically and polished my writing, research, and communication skills which will be essential to succeed at graduate school and the policy jobs I want to pursue in the future."  
In the fall, he will pursue a Master of International Development at the University of Pittsburgh Graduate School of Public and International Affairs, where he was awarded a fully funded fellowship. After graduate school, he plans to join the Foreign Service working in Latin America.  
Cristopher writes: "The incredible experience and achievements I had at Rutgers-Camden were in part due to my professors. I would like to especially thank Dr. Donaghy, Dr. Shames, and Dr. Bowers for all advice and support during the last four years!"   
Nadirah Garcia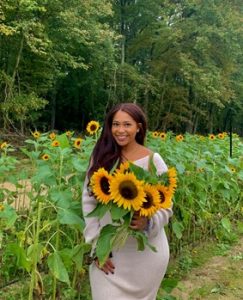 Nadirah is graduating with a major in Political Science and minors in Criminal Justice and Legal Studies. Her favorite experiences on campus involved attending classes in person and interacting with peers and friends. She also loved taking part in various clubs and activities. With a particular interest in political theory, Nadirah writes that her degree has prepared her for the future because it has "helped me think critically, logically, and abstractly about the political process and how it can be used as a tool to help create change for those who feel left out of the conversation. My criminal justice and legal studies minors have allowed me to see the theoretical and practical scope of the purpose and function of criminal justice, allowing me to help me grow into a person that can help change the future." Following graduation Nadirah will take a gap year to explore internships and study for entrance to law school. She says that "this journey has not been easy, to say the least, but I know that it will all worth it in the end." 
Krista Gonzalez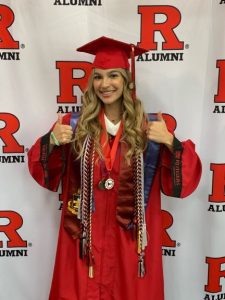 Krista graduates with majors in Political Science and Global Studies and minors in International Relations and Latin American Studies. Her favorite experience at Rutgers-Camden was her weekly routine of purchasing Halal from the food truck across from the library and eating it in the library with friends during the break. She has always been intrigued by international studies, with a wanderlust for traveling and friendships with international students, and she found her courses in international relations to be enlightening and mind-opening about different ways of life. She says that traveling has been an essential part of her life by allowing her to not only learn about others but also about herself.
She writes: "My degree has prepared me for the future by enhancing my critical thinking and allowing me to apply political theories and to current legislation and ideas. Most importantly, I have developed an understanding of how institutions and practices relate to public life and impact citizenship. In addition, it has exposed me to the fundamentals and meticulous concepts that intertwine international relations with domestic politics. Lastly, it has sure taught me to how to research, read, write and read even more!"
Following graduation, Krista plans to continue working as Legislative Aide and Communications Director for Assemblyman Spearman with the Fifth Legislative District Office while completing her Master's in Public Administration with a concentration in International Public Service at Rutgers-Camden. 
In addition, Krista writes: "In June 2020, my four-year old nephew passed away after complications from a rare genetic disorder that only five other people in the world have. Joseph's mystery and fight in the hospital initially inspired me and continues to encourage me to take my studies and dreams to the next level by considering an MPA. In Joseph's honor, I am motivated and driven to achieve my goals and capture any opportunity that may evolve my understanding and knowledge. It is a goal of mine to experience as much as I can because I am not only seeing for myself but also for my nephew who did not have the chance. I am traveling for two; I am learning for two."
Daniela Tavarez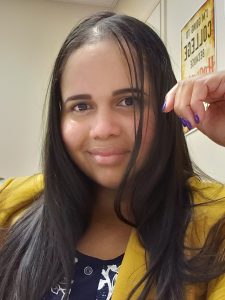 Graduating with a major in Political Science and a certificate in National Security Studies, Daniela's favorite experience at Rutgers-Camden included meeting other students and having teachers who were knowledgeable and supportive. Her primary interest within Political Science is immigration and she writes that her degree has prepared her with an understanding of the world of politics. She appreciated taking classes with other students who at times had different perspectives on certain matters, which she says "taught me that even though we all have different opinions we can all come together and try to understand each other better." Though she does not know what the future holds, she intends to keep working for the Pennsauken Township and grow within her community. Her dream goal is to work for the United States Citizenship and Immigration Services.
Daniela writes: "I'm a first-generation graduate, a mother, and a wife and I come from a family of hardworking Immigrants. Life has taught me 3 amazing lessons: #1 As long as you work hard and don't give up you can make your dreams come true. #2 Being nice and networking goes a long way. You never know who you might meet that will open doors for you. And #3 It is never too late to get an education and earn your degree. Don't let age hold you back from achieving your degree." 
Joshua Lopez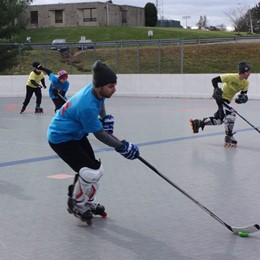 Graduating with a major in Political Science, Joshua's favorite experiences at Rutgers-Camden involved making new friends and rediscovering his enjoyment of education. His primary interests include social justice and racial equity, and he has valued the study of Political Science as it has helped challenge his own biases and become a more well-rounded person. In the future he hopes to work for a non-profit organization. Joshua says: "I came back to school after a few years off and had a GPA that was under 2. I'm graduating with a 3.7 and I've never been prouder of myself."