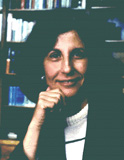 Kim Ezra Shienbaum
Emerita Professor of Political Science
Phone: (856) 225-2936
Email: shienbau@scarletmail.rutgers.edu
Dr. Shienbaum developed and directed the National Security, Intelligence and Counter-Terrorism minor and expanded its reach, while Department Chair from 2008-2012, to our campuses at Fort Dix and Fort McGuire.
Education
B.A. Leeds
M.S., London School of Economics
Ph.D., NYU
Teaching
Dr. Shienbaum has made an outstanding contribution to one of the University's core missions: public outreach. She created, hosted, and produced the nationally syndicated public affairs radio series Head to Head, which was heard on over 75 radio stations across America. From 1995 until 1998, Head to Head was funded by America's largest pension fund, TIAA-CREF.
Research and Publications
Dr. Shienbaum's research and teaching interests focus on American Politics as well as selected international issues. She teaches a wide range of courses in that area, ranging from The American Presidency to Politics and Culture.
American Shockwave: Entrepreneurial Capitalism and Its Global Impact
Beyond the Electoral Connection: A Reassessment of the Role of Voting in Contemporary American Politics
Legislating Morality: Private Choices on the Public Agenda
Co-editor and contributor to Beyond Jihad: Critical Voices from Inside Islam (co-editor Jamal Hasan)
Can America Maintain Its Political, Military and Economic Preeminence: 16 Key Challenges
Over the years Dr. Shienbaum has also published several articles in respected and peer-reviewed academic journals.