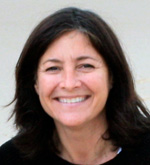 Beth Rabinowitz
Assistant Professor
Phone: (856) 225-2971
E-mail: beth.rabinowitz@rutgers.edu
Vita (PDF)
Education
Ph.D., University of California, Berkeley
M.A., University of Chicago
B.A., State University of NY, Purchase
Teaching
Dr. Rabinowitz teaches African Politics, Comparative Politics and International Development. In all her courses, her primary concern is to empower her students by providing them with tools to critically assess the social world around them. Her hope is that no matter what profession her students may ultimately enter, they will do so with a solid intellectual foundation.
Research and Publications
Dr. Rabinowitz's research focuses on regime strategies and political stability in sub-Saharan African, with a particular focus on rural alliances. She is currently working on a series of articles on Ghana and Cote d'lvoire, as well as on military coups in Africa.

Dr. Rabinowitz is a two-time recipient of the Andrew and Mary Thompson Rocca Fellowship in Advanced African Studies.