Dean Kriste Lindenmeyer and the Department of Political Science at Rutgers University–Camden invite you to the ninth annual presentation:
Jacob Abraham and Mildred Amelia Baron Lecture Series
Monday, April 3
From 12:15 to 1:30 p.m.
Rutgers–Camden Campus Center, Multi-Purpose Room
326 Penn Street
Camden, NJ 08102
Featuring: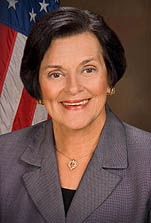 Patricia Egan Jones
Assemblywoman for New Jersey's 5th District
Patricia Egan Jones was sworn in as Assemblywoman on November 9, 2015 for New Jersey's 5th Legislative District, which covers parts of Camden and Gloucester Counties. A graduate of Rutgers University-Camden, Patricia Egan Jones began her career in public service as a community activist, and went on to serve as Chief of Staff for New Jersey Assembly Speaker Joseph Roberts and Legislative and Administrative Director to the late New Jersey State Senator Walter Rand.
Jones was first elected to public office as a member of Borough Council in Barrington. As Councilwoman she created the borough Economic Development Committee and was instrumental in the creation of Barrington's "Wish Upon A Star" playground. 
Jones went on to serve as a Camden County Freeholder, and worked as liaison to the Department of Public Safety and Juvenile Justice. In this position, she oversaw the department's over 200 employees with an annual budget of $14 million. A highlight of Jones' contributions as Freeholder was her critical role in bringing the Battleship New Jersey to Camden. As a legislator, Assemblywoman Jones strives to serve as a voice for the people of the Fifth Legislative District. In addition to serving as a Legislator, Jones gives back to her community as a member of the Cooper's Ferry Partnership Board of Directors and as a member of the Rutgers University/Walter Rand Institute for Public Affairs Advisory Board. She also serves on the Board of Directors for Volunteers of America Delaware Valley, the Larc School Board of Directors, and Chapter Vice Chair of
the Board of Directors of the American Red Cross of Camden, Burlington, and Gloucester Counties.
This Lecture Series was established by Rutgers-Camden alumnus Jeffrey I. Baron as part of the Jacob Abraham and Mildred Amelia Baron Fund to provide academic enrichment to undergraduate students in Political Science at the Camden College of Arts and Sciences.